You are here: Home / Books
How far would you go to change your life?
After nearly forty years of marriage Sylvie's comfortable life with John is about to fall apart after some unexpected news. As they try to pick up the pieces in the aftermath, John has a plan that takes Sylvie by surprise. Is this really a plan for their future together or is this the beginning of the end of their marriage?
All at sea over what the future holds, Sylvie makes a plan of her own. She sets a chain of events in motion that lead her on a journey to discover it's never too late to start over and meet the man you were meant to spend the rest of your life with.
A tale of family secrets, second chances, and finding the courage to follow your dreams – wherever they might lead.
Book 1 in the series Living Apart Together. This series should be read sequentially, starting with Living Apart Together Book 1, in order to enjoy the story arc as it was intended.
Do you believe in second chances?
John does. That's why he is going to do everything in his power to get his wife back. There's just one hitch: they're still living apart together. John has converted their family home into two apartments and now his wife, Sylvie, is ensconced in the apartment downstairs. Getting her to move back in with him might be a problem. John hopes it's not insurmountable.
The plan was to rent out the garden apartment. He intended to spend the extra income on things they couldn't otherwise afford in retirement like restaurant meals and trips abroad. John hasn't told Sylvie this yet. He's still waiting for the right moment. They haven't exactly been on speaking terms since she upped and moved downstairs. She's calling it a trial separation.
But all that is about to change. At least John hopes so. His brother, Dave, has a plan to get Sylvie out of the garden apartment and everything back to normal in the Baxter household. It better happen soon because John is harbouring a guilty secret. If Sylvie finds out before she moves back upstairs he might lose her forever. Book 2 in the Living Apart Together Series.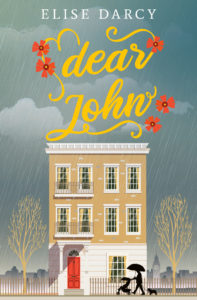 What price would you pay to keep a secret?
Living apart together, Sylvie and John are on the brink of calling time on their forty-year marriage. John is already anticipating the day the love of his life will walk out the door and never come back.
Sylvie has blossomed into the woman she always knew she could be. She has a career, new friends, and the possibility of romance after a chance encounter with a nice gentleman who asks her out on a date. Sylvie has found a life for herself. The only problem is her neighbour upstairs. Can they really continue living apart together?
Their unconventional living arrangements soon become the least of their concerns when a drama unfolds close to home. It throws them back together in the most unexpected way, putting Sylvie's newfound independence in jeopardy.
When Sylvie persuades John to collude in a lie to protect a secret even he doesn't know about, she risks everything they hold dear. The fallout is far worse than either of them could have imagined. Book 3 in the Living Apart Together Series.
Do you believe in the one?
Life post sixty has turned out anything but conventional for Sylvie and John Baxter. Living apart together since John converted the family home into two apartments, they may be living under the same roof but the question remains: are they getting back together or splitting up for good?
John thinks he knows the answer to that conundrum. Sylvie has packed her bags and walked out. She's left him for good. Or has she? What John doesn't know is that his wife is the writer, Love on the Rooftop, and she's off to New York to appear on a live American chat show.
What Sylvie doesn't know is that her husband is the writer, Dear John, her rival, her nemesis, and he is off to New York to meet her on a live American chat show. What will happen when they discover the truth? That after forty years of marriage they really didn't know each other at all. That isn't the only surprising discovery awaiting them in New York.
A family mystery is revealed and Sylvie bumps into a stranger in an unexpected place who challenges her perceptions about life, love, and a second chance at happiness. Has Sylvie finally found the one? The final book in the series, Living Apart Together.
One Mallorcan Summer. Two heart-rending secrets. Three lives changed forever.
When Clara and Ralph meet again by chance, forty years have passed since they were teenage sweethearts and a tragedy tore them apart.
Both reeling from a recent event in their lives, they have returned to the place they once called home, but for very different reasons. Clara is seeking solitude after an encounter that throws the very foundations of her marriage into doubt. Ralph is returning home a widow plagued with guilt over his wife's death.
Their friendship soon blossoms with the promise of rekindling their lost love. But the tragic events of one summer in Mallorca still haunt them. Can they escape the ghosts of the past and start a new life together? Or will they risk it all and finally reveal a secret they have kept from one another all these years? A heartwarming tale of family, love, and the secrets we keep.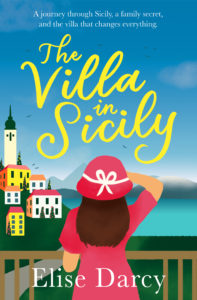 A journey through Sicily, a family secret, and the villa that changes everything.
When Josie loses her mother, she finds an old journal locked in a drawer along with a plane ticket. Her mother, who never travelled abroad, was going to Sicily without telling a soul. Why was she keeping her trip to Sicily a secret and who is the mysterious woman who wrote the journal?
Josie travels to Sicily and follows in the footsteps of two young women in the journal, sisters who visited the Italian island in the nineteen sixties. What secrets will Josie uncover and why does she feel she is being followed at every turn?
Josie soon discovers there was more to their trip than a just a holiday. Amongst the stunning sites and scenery of Sicily, an unimaginable tale of love, loss and tragedy unfolds. The tentacles of their story reach down the generations. Josie and Michael, a young American on the tour, soon realise their part in this story is only just beginning…
Can they right the wrongs of the past before it's too late? And what of their future? They might just be falling in love.
Lola & The Man ~ An uplifting tale of a puppy and three strangers brought together one Christmas.
With the unexpected arrival of a puppy, Hugh's life is about to change for the better. But just as he opens his door and his heart to new friendships at Christmas, a ghost from the past throws his festive holiday plans into turmoil.
Erin is in hiding. Running away from a seemingly perfect life, her husband will move heaven and earth to find her. She knows she can't stay in one place for long. As Christmas approaches she rediscovers life is worth living, house sitting an old cottage in the heart of a picture-postcard English village whose owner, an elderly lady, has secrets of her own.
Finding solace in simple pleasures like reading a book in front of a warming log fire, taking walks in the snow, and browsing the stalls at the festive market, Erin is not looking for love. All she wants is to be on her own, but fate has other ideas.
A chance encounter with a neighbour leads to a surprising friendship. He is patient and caring. She might just be falling for Hugh. But time is running out. Her past is catching up with her. Can she find the courage to stay? Or will she disappear once more knowing this time she must leave behind the man she is falling in love with?
As the snow falls, something magical is about to happen which will change their lives in ways they could never have imagined…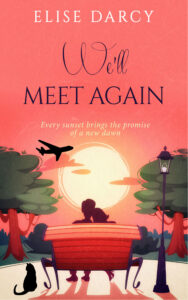 A house with a forgotten history. A resident with a secret past. A woman starting over, unsure what the future holds.
Working as an Occupational Therapist in a busy London hospital, Cassie loves her job but is looking forward to early retirement in five years when she reaches fifty. However, her husband has other ideas…
Suddenly single, Cassie needs a fresh start. Responding to an ad for a live-in position, Cassie arrives at Fletchling Hall, a grand stately home, its corridors echoing with stories from the past.
Her new position seems too good to be true, living in a cottage in the grounds, the commute into work a glorious stroll through the gardens to the imposing house in the Sussex countryside.
In the cellar, a forgotten diary has languished undisturbed for nearly seventy years. When Cassie discovers the diary, she unravels the heartfelt story of two young souls from the war years, and a little boy called Ted, a young evacuee. It reveals the surprising connection Cassie, a Canadian, has to the house and its resident.
An unforgettable tale of a secret spanning decades, love found, and the importance of belonging.